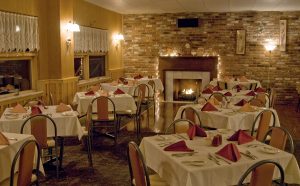 Banquet menu pricing is customized for each event.
We are pleased to be a consideration for your next group function and are happy to work with you to organize it. A $100 deposit will be required upon confirmation of the dates. The banquet room(s) are available at no additional charge, however a 20% gratuity will be added to your check to enable us to continue to provide excellent service for your private party needs.
The selections below have been developed for your convenience and will in no way limit your own creativity in planning your event. We have a fine selection of wines and spirits which can be included in your banquet plan. Please do not hesitate to make requests. We will make every effort to accommodate you and your guests.
All entrees include soup or salad, rolls and butter as well as a choice of two side dishes. Soft drinks, tea, coffee and desert are also included. Desert choices are: Crème Brule, Fried Cheesecake or Chocolate Fudge Cake. You may opt to bring your own desert. We do not charge for cutting and serving.
Prices are subject to change without notice.
---
Selection #1
Call for Pricing 412-741-1918

Choose (3) Three

Chicken Romano

Grilled Salmon

Cod Piccata

Virginia Spot English Style

Veal Romano

Stuffed Porkchop

Fettuccine Alfredo

Chicken Parmesan

Poached Salmon

Crab Cakes

Scallops English Style

Fried Shrimp

6 oz. Filet mignon
---
Children's Menu
Call for Pricing 412-741-1918
Choose (2) Two


Chicken Fingers w/French Fries


Mac and Cheese


Popcorn Shrimp


Pasta with Marinara or Aioli


Cheese Sticks with Marinara


Chicken Parmesan with Fries
Selection #2
Call for Pricing 412-741-1918

Choose (3) Three

Stuffed Shrimp

Surf & Turf (two 3 oz. filet & tail)

Lamb Chops

8 oz. Filet mignon

12 oz. New York Strip

South African Lobster Tails (12 oz.)

Delmonico Steak

Salmon En Croute

Rack of Lamb

12 oz. Prime Rib of beef

Veal Oscar

Steak or Veal Zurich

Fra Diavlo (shrimp & scallops)
---
Side Dishes
Choose (2) Two


Baked Potato


Mashed Garlic Redskin Potatoes


French Fries


Rice Pilaf


Broccoli


Buttered Corn with roasted red pepper


Fussili (pasta) Au Gratin


Green Beans Almondine


Macaroni and Cheese


Zucchini in a Dill Butter Sauce
Selection #3
Call for Pricing 412-741-1918

Choose (3) Three


Seafood Platter

Stuffed Veal Chop

Surf & Turf (8 oz. filet & tail)

16 oz. New York Strip

Steak Diane

8 oz. Filet Oscar

Fettuccine Alfredo (shrimp & lobster)
---
Include Any Appetizer
Call for Pricing 412-741-1918


Fried Zucchini


Stuffed Mushroom (crabmeat)


Artichoke Hearts Romano


Swedish Meatballs


Bruschetta


Cheese and cracker platters


Cajun Fried Oysters


Crab Delights


Water Chestnuts


Frog Legs


Crudités (vegetable tray)